Hotel Introduction
Hotel Sunshine is adjacent to Love River. Kaohsiung Port, True Love Ferry Pier, Urban Spotlight, Former British Consulate at Dago, Kaohsiung Museum of History, and beautiful Shoushan are just minutes from Hotel. Located within the business and entertainment districts, Hotel Sunshine is your perfect choice for accommodation in Kaohsiung.
Tel:+886-7-332-7988
Hotel Address:NO75 JONG HWA 4TH ROAD,KAOHSIUNG,TAIWAN
Room Introduction
The Hotel Sunshine has 150 air-conditioned guestrooms spread across 13 floors. Each room is furnished with flower-pear wood and has traditional oriental-style decor. Amenities include a cable/satellite plasma TV, complimentary wireless Internet access, direct-dial phone, refrigerator, coffee/tea maker, and complimentary newspaper. All guestrooms have a private bathroom outfitted with complimentary imported designer toiletries.
Leisure Facilities
Located in the central business district of Kaohsiung, the Hotel Sunshine is a smoke-free property offering amenities for business and relaxation. Conference areas, small group meeting rooms, and a business centre are available on site, and wireless Internet access is complimentary in public areas. A technology helpdesk is also staffed for guest assistance. The Hotel Sunshine provides complimentary breakfast, served in a dining room with live piano performances. The hotel also has a complimentary self-service laundry room, complimentary valet and self parking, tour/ticket assistance, a concierge desk, and airport transportation for a fee.
Restaurants
This central business district hotel offers complimentary buffet breakfast with piano music, Breakfast with piano
complimentary wireless high-speed Internet access, and a complimentary self-service laundry room
Peripheral Scenes
Located in the Lingya district of Kaohsiung, the Sunshine Hotel is less than 1 km (0.62 miles) from the Sanduo business and shopping district, Sky Tower 85, and Love River, and 3 km (1.86 miles) from the Liouho Night Market.
Directions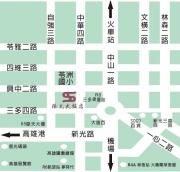 Airport :Kaohsiung International Airport -- 5km, 10 minutes by car.
Taiwan High Speed Rail (THSR):Zuoying THSR Station -- 12km, 25 minutes by car.
Taiwan Railway :Kaohsiung Taiwan Railway Station--5km, 10 minutes by car.
Public Bus: Public buses No.14 0south -- bus-stop" 苓洲國小站".
Sanduo business and shoping district - 0.8 km (0.5 miles)
Love River - 0.8 km (0.5 miles)
The Liouhu Night Market - 3.2 km (2 miles)